Facelift surgery with Dr. Jose Barrera
Want to get a great-looking facelift in San Antonio? When performed by a highly qualified facial plastic surgeon, facelift surgery can turn back the clock. Facelift surgery is often combined with a neck lift. Facelift surgery addresses various signs of facial aging including wrinkles, fine lines, sagging skin and displaced fat. The result is a younger-looking and well-rested appearance.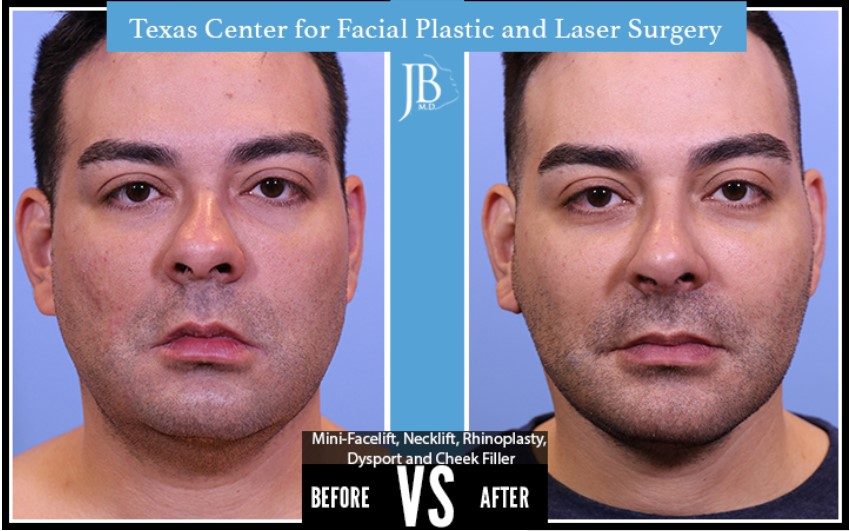 San Antonio patients who want the best facelift results put their trust in Dr. Jose Barrera, MD. Dr. Barrera is a board-certified specialist in facial plastic and reconstructive surgery, with years of training and experience in various facelift and neck lift techniques. Dr. Barrera served as the Chief of Craniofacial and Sleep Surgery at Wilford Hall Medical Center and Chief of Facial Plastic and Reconstructive Surgery at the San Antonio Military Medical Center.
Having treated hundreds of individuals, Dr. Barrera understands that no two patients are exactly alike. His individualized approach to facelift surgery has delivered consistently successful and natural-looking results.
What makes Male Facelift Surgery different than their female counterparts?
Male Facelift Surgery with Dr. Jose Barrera differs from facelift surgery for women in that particular attention to detail regarding incision placement is paramount. Men are influenced by visible scars on the face. Most men cannot wear long hair to hide incisions around the ear. More so, men without a hairline and bald men who desire a facelift have a difficult time hiding their scars.
Although a challenge to most plastic surgeons, Dr. Barrera embraces the challenge by hiding scars behind the ears and in front of the ear lobule. These limited incisions will be the entry point to elevating the superficial muscle and fat layers of the face called the SMAS. A limited incision with a deep plane elevation of the SMAS is a signature facelift of Dr. Barrera. Dr. Barrera's technique includes the MIDE facelift, a minimal incision deep plane elevation, which benefits men because it limits scarring. In combination with a robust neck lift and submental removal of fat, improvement in the male jawline can be achieved. 
Do I Need a Facelift and/or Neck Lift?
Aging of the face is inevitable. Over time, the skin loses elasticity and begins to sag. Fat becomes displaced and muscle tone is lost, leading to a hollow or sunken appearance. The jawline softens into jowls and fine lines appear around the corners of the eyes, forehead and face. Vertical folds and laugh lines appear on the neck and around the mouth. All of these elements can create a tired and older-looking appearance. A facelift is considered to be the gold standard in facial rejuvenation because it addresses several signs of aging around the middle and lower face.
Improves wrinkles, fine lines and creases on the lower eyelids, cheeks and around the nose and mouth
Improves lower displaced fat
Improves jowls
Removes excess fat on the jawline and underneath the chin
Removes horizontal neck bands
Removes loose, hanging skin on the neck and underneath the chin
Your Facelift and Neck Lift Consultation and Procedure
The goal of facial rejuvenation is to create a younger-looking, happier version of yourself. To accomplish this, Dr. Barrera may recommend combining facelift and neck lift with other procedures. For instance, fractional CO2 laser resurfacing can be performed in conjunction with facelift to improve skin texture. Chin augmentation is often combined with facelift to create a well-defined jawline and overall proportional facial appearance. Facial fat grafting may also be used to restore fullness to the cheeks or area under the lower eyelids.
Your facelift and neck lift consultation with Dr. Barrera is key to ensuring realistic expectations and successful results. Dr. Barrera will evaluate your medical history to determine if you are an ideal candidate for facelift and neck lift. He will also examine the structure of your face as well as the elasticity, color and texture of your skin to determine whether you can benefit from other facial or skin treatments. To help you visualize your results, Dr. Barrera will have you review before-and-after photos of his facelift patients. Based on all of this information, Dr. Barrera will create a treatment plan that will best achieve your desired outcome.
Facelift and neck lift involve creating incisions to correct signs of aging. The exact incision pattern depends on the technique used. Our tailored facelift approach (also known as deep plane facelift) and neck lift removes excessive skin and fat on the middle and lower facial areas and neck. Then, the skin and the superficial musculoaponeurotic system (SMAS) are separated. This allows the surgeon to go underneath the SMAS layer to reposition it to a more youthful and natural-looking position. Incisions are made at the temples which continue down to the back of the ear and behind the sulcus of the ear. The resulting scars are easily hidden by the natural hairline and creases of the ear.
The mid-facelift (also known as cheek lift) targets sagging skin on the cheeks. Incisions are typically made in the hairline and the inside of the mouth. Through these incisions, the surgeon lifts and tightens the skin and underlying muscles over the cheekbones.
Mini-facelift involves shorter incisions than traditional and mid-facelift. The incisions are made at the temples and continue around the ear. Drooping skin on the middle and lower facial areas is excised and supported with sutures in the underlying muscle structures and SMAS.
A neck lift involves making an incision in the neck exposing the neckbands and fat of the chin. The incision is placed in a natural crease under the chin. Excess fat is removed using liposuction and direct removal of fat. The remaining platysma muscles are either sutured together or drawn up to the back of the ear. If necessary, neck lift can repair and tighten neck muscles that have weakened or loosened over time. This technique, known as platysmaplasty, requires an incision underneath the chin.
Neck lift can incorporate fat reduction techniques to remove unwanted fat below the chin. This can be done with liposuction, which requires an additional incision underneath the chin. Or, it can be done with Kybella, a non-surgical injectable treatment that does not require incisions. When injected into the chin area, Kybella gradually breaks down fat cells, which are safely absorbed by the body.
How does a Mini Face Lift San Antonio Work?
Dr. Jose Barrera, MD, specializes in short scar facelift and mini facelift surgery. Dr. Barrera can restore facial proportions and enhance beauty. The mini facelift procedure rejuvenates the lower two-thirds of the face.
A mini-facelift repositions and tightens underlying muscles and tissue. Excess skin is removed and the incisions are closed with sutures. Although the results are permanent, the aging process still continues after surgery. A rhinoplasty or nose job can be performed to improve the aesthetic qualities of the face at the same time as a Mini Face. The nose serves not only breathing and smell functions, but is the aesthetic quality first noticed when out of proportion with the rest of the face. In combination, a Mini facelift or midface lift can be combined with rhinoplasty to bring balance to the face. An overly projected nose will make the face look too angular and masculine. Similarly, the aging face with its associated descent of facial muscles, deflation of the midface fat, and loss of its fat volume detracts from the beauty of the face. By combining rhinoplasty and mini facelift surgery, a more natural proportion to the midface can be achieved. Consider rhinoplasty and mini facelift San Antonio for a rejuvenating and functional look.
How much is a Mini Face Lift in San Antonio?
The cost of mini face lift varies depending on the surgeon, need for revision surgery, and whether it is combined with a neck lift surgery. It usually costs less than a full facelift or a deep plane facelift.
What is the recovery of a Mini Facelift?
Mini Facelift recovery ranges between 1-3 weeks. Patients can return to work after one week and exercise as early as 3 weeks. Dr. Barrera recommends wearing a jobst dressing or jaw bra for the first week after surgery.
For more information on facelift/neck lift, please contact Dr. Barrera's San Antonio facial plastic surgery practice at (210) 468-5426 or via our online form.